Kangarli region
KANGARLI - the region of the Nakhchivan Autonomous Republic in Azerbaijan.
It was established a region on March 19, 2004.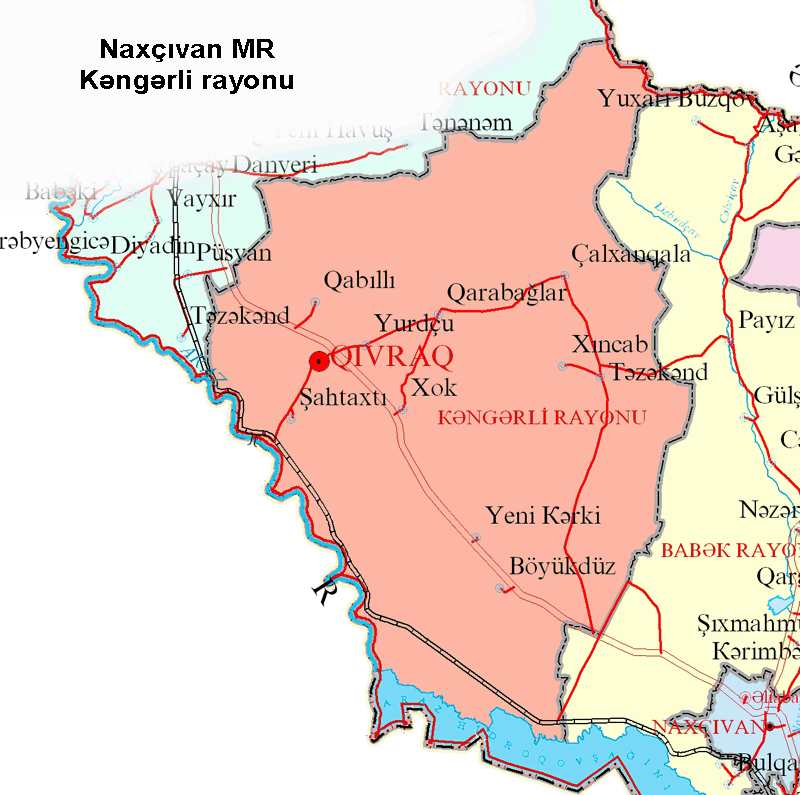 KANGARLI REGION – It was located between Babek and Sharur regions. It borders on Iran in the South and Armenia in the North. Region is composed of a numeral of chains and surrounded by the Daralayaz mountain chains. A continental climate type exists in the region as in different areas of Autonomous Republic – there exists the hottest weather condition in summer and the coldest in winter. The Aras River runs through the region and along the boundary between Azerbaijan and Iran. Upland landscape, features of the climate and minority of the small rivers formalize the local flora . They mainly consist of semi-deserts and types of mountain flora ( shrubberies, grass and rare trees).
| | |
| --- | --- |
| Economic regions: | Kangarli |
| Area: | 682(km 2) |
| Population: | 26100 |
| Population density : | 38.27(person/km 2) |
The grain crops, grape, tobacco and vegetable are grown in the agricultural region.
The territory of the region consists of the Daralayaz mountain chain and the Kangarli plain land. The highest top is the Kechaltapa (2744 m) mountain. A continental climate type exists in the region.
The Lizbirt and the Jahri rivers flow through the territory of the region. It is mainly agricultural region.
There are 12 secondary schools, 4 out of school educational institutions, 12 libraries, 13 club institutions, 1 museum, 2 children's musical schools, a central hospital, a field hospital, 4 out patient's clinics, 5 midwife stations, the center of Hygiene and Epidemiology and other organizations.
Ancient monuments had been revealed here as in the each place of the Nakhchivan Autonomous Republic which inform of human settled there in the archaic time: CHALKHAN GALA barrows, GAZMA cave, and also GALAJIG, GOVURGALA, DAMLAMA, GULAMLITAPA settlements. The monuments of the next times: JAMY MOSQUE in KHOK (XVIII mil) and the bath-house in SHAKHTAKHTY (XIX mil).
GIVRAG settlement is an administrative center of the new region which was established in 2004. Givraq is located on Naxçıvan-Şərur high-road and in the distance of 30km from Nakhchivan. The settlement is 6km far from the Aras. There aren't any infrastructures for accepting the tourists in the settlement for the present as the region has gotten the administrative central status recently. But it is possible to stay as a guest in local inhabitants houses.
| #   | The name of the municipalities   | The number of the population on each municipality    |
| --- | --- | --- |
| 1 | Garabaglar Municipality | 5833 |
| 2 | Khok Municipality | 4887 |
| 3 | Givrag Municipality | 4182 |
| 4 | Shakhtakhty Municipality | 3092 |
| 5 | Chalkhangala Municipality | 2140 |
| 6 | Boyukduz Municipality | 1435 |
| 7 | Yurdchu Municipality | 1068 |
| 8 | Gabilli Municipality | 1025 |
| 9 | Khinjab Municipality | 604 |
| 10 | Tazakand Municipality | 505 |
| 11 | Yeni Karki Municipality | 368 |
| 12 | Total | 25139 |